You may be feeling nervous about having an orthodontic consultation but rest assured it is a comfortable and informative process. 
You'll get everything you need to know about your orthodontic appliance options, along with how long treatment will take and how our interest free payment plans work. Here's what you can expect at your consultation with Peak Orthodontics.
Taking your orthodontic records
When you arrive at Peak Orthodontics, we will start the process that we call 'taking records'. This includes taking clinical photographs of your teeth, your smile and your facial profile.  Our Orthodontic clinic will also take a 3D digital impression of your teeth which we may later use when planning your orthodontic treatment should you decide to start your journey with us. 
Once the photographs and digital impression have been taken, our Orthodontist may then need to take an X-ray.  This x-ray is different to the usual 'bitewing' x-rays you may have experienced at your general dentist.  Our orthodontic X-ray includes a comprehensive view of your teeth, facial profile and jaws. These X-rays are important to assess the health of your teeth and jaw bone, along with measuring the position of the upper and lower jaw bones.
Meeting your Orthodontic Treatment Coordinator
Once your orthodontic records have been completed, you will be guided to our consultation room to meet our Treatment Coordinator. The Treatment Coordinator will listen to your goals for treatment and understand any concerns you may have about starting. Our Treatment Coordinator liaises with our Orthodontist throughout your appointment and they are also here to answer any questions you may have at any time after your consultation is finished.
Orthodontic Diagnosis
Our orthodontist will join you and our Treatment Coordinator in the consult room. He will use your orthodontic records to diagnose any issues with your teeth and jaws, along with comparing your records to the ideal 'bite'. You will also be asked to lie back in our consultation chair so that our Orthodontist can take some measurements of your teeth and assess your jaw movement.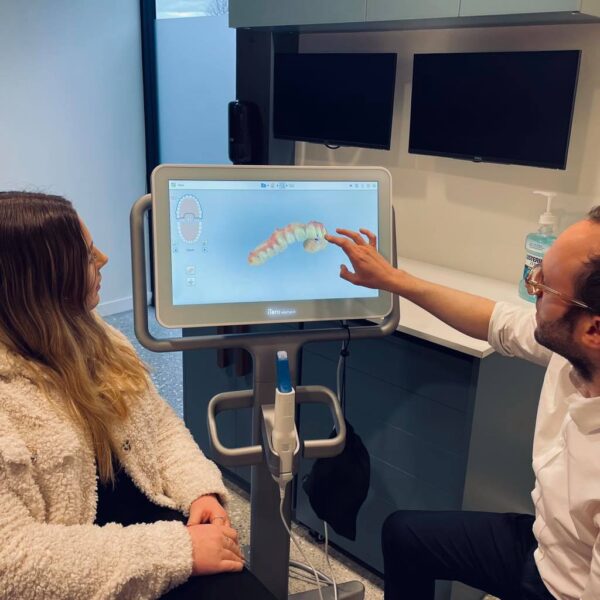 Orthodontic Appliance Options
Our Orthodontist will take the time to understand and explain which orthodontic appliance (such as braces or clear aligners) may suit you best.  Many people prefer the more discreet look of clear aligners and the good news is that at Peak Orthodontics, our Orthodontist has the experience to correct both mild and complex cases with clear aligners. We will always endeavor to recommend the orthodontic appliance that will give you your best outcome in the most comfortable way possible.
Orthodontic fees and payment plans
Once your diagnosis and orthodontic appliance options have been explained to you, our Treatment Coordinator will provide you with a comprehensive quote that includes:
The estimated timeframe for your orthodontic treatment

Transparent pricing that includes all of your appointments with us during treatment

An option to pay upfront or pay monthly with our interest free payment plans
Getting started with Orthodontic treatment
If you are satisfied with everything that is explained to you during your consultation, you will be given the opportunity to book your appointment to get started. Our Treatment Coordinator will also work with you to help you understand any forms you may need to complete such as our direct debit and consent to treatment documentation.
If you have any more questions regarding your consultation with Peak Orthodontics, please call us on 03 595 6686 or you can book your free orthodontic consultation with Peak Orthodontics online.